Destin West/Gulfside G204/Beachfront
Destin West/Gulfside/Beachfront
Destin West - Fort Walton Beach Condo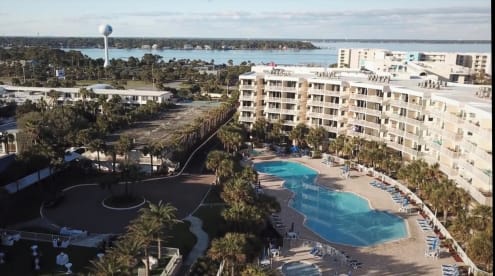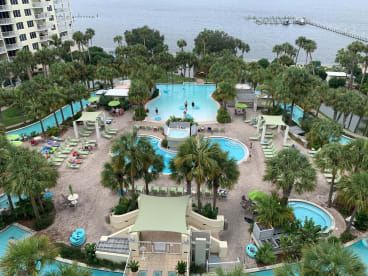 ---

My ECBYO listing
Description
Welcome to the completely renovated Destin West 204.  2 Bedrooms, 2 full baths and a bunk room just steps from the white sandy beaches and emerald green waters of the Gulf of Mexico.   Purchased in October 2020, my wife Linda and I have spent the last few months doing a total renovation.  With new ceramic tile floors, granite countertops, all stainless steel appliances, fresh paint and lots of new furnishings, this unit is like new and ready for your family to enjoy. We searched for the perfect place for us and found it in Destin West.  With the amazing amenities, its a resort style property, with a heated pool on the bayside, large pool on the beachside, 3 hot tubs, lazy river, fitness center, pier/marina and grilling area, not to mention the gorgous beach just steps from the condo.  One of the things we love most is the way the beach sets up, if you walk to the right, you have the boardwak, restaurants and the Okalloosa County Pier, but walk to the left and you have sevaral miles with almost no development.  We have almost everything you could need for your vacation, including portable beach charirs, boogie boards and a beach cart that you are free to use during your stay.  Gulfside 204 is our first property, our baby, our project.  We cannot wait to host you and your family.  We hope you will enjoy it as much as we do.  
| From/To | Nightly | Weekend | Weekly | Monthly | Min Nights |
| --- | --- | --- | --- | --- | --- |
New Years Vacation


we stayed here over New Years Eve and into January a few days. the condo view is awesome. right over the huge led-color changing pool and Palm trees right at eye view on second floor. just off to the left a little is the beach view just over the sand dune. gorgeous Sunset from the condo balcony. New Years eve, 2020 [ i know right?] and fireworks were perfectly in view.
the condo itself is the nicest coziest we've ever stayed in. the owners sank some bucks into this and it shows! New Appliances, new quartz countertops! new floors are stunning and easy to clean. all of the furnishings look professionally designed.
everything you need is here too. from the kitchen to the liv room (some board games and cards), to the patio furniture and even the bathrooms. hair dryer and extra everything. blender and fully stocked kitchen, laundry etc.
choose this condo. you will not regret it.
Steve and Vera Nabi
Tennessee, USA
12/31/2020
Amazing

This condo is AMAZING! The owners have thought of everything you could possibly need during your stay! Shawn is very responsive and answers any question you may have about the condo or the area. We have stayed in the area multiple times and never had such accommodations. The condo is spacious and super clean. The views from the balcony are amazing! The amenities at this resort are awesome!! I would highly recommend booking with salty vibes! When we come back, we will not be staying with anyone else, but we may check out one of their other properties:)
04/02/2021
5 Star
This is a great place to stay, I will definitely be coming back!
10/01/2021
Really a wonderful stay, with responsive hosts.
we had a wonderful stay here! the place is beautiful and roomy. the beds were very comfortable (important to my family for sure). we loved all the pools, and the beach was so close. you literally walk out, down some stairs, and you are pretty much at the boardwalk. it was great so many things were provided, like beach toys and beach chairs/umbrella. There is also a wagon but we didn't even need it since it was such a short walk. The kitchen was well stocked. The area is great, with lots of restaurants really close. We really enjoyed eating at the Crab Trap, Ricks, and Anglers, and you should def grab some donuts from Okaloosa donuts! I'd skip Floyds, not worth it. The adventure park right down the street was great and we really enjoyed their putt putt course. The boardwalk is nearby too. The sunsets on the beach were beautiful and we even got to see rays swimming just off shore.
10/01/2021
This was a great place to stay!
The beach was very easy to get to and the boardwalk was just a quick walk down the beach! It was great to have options between the beach and the different pools as well!
10/01/2021
Just lovely.
Enjoyed the boogie boards and beach chairs!
09/01/2021
We will be back!
Beach chairs, wagon, beach toys and a fully stocked kitchen with all the gadgets made this vacation so comfortable. Great location- minute walk to the clean beach, loved the pools and lazy river. Delicious restaurants 1 min away too.
09/01/2021
Best Trip
Excellent location. Condo has everything you need!
09/01/2021
What Shawn advertises is what you get and more.
We had a wonderful time and will definitely return. The condo is very accommodating, clean, and well stocked. We don't have anything negative to say about the place.
08/01/2021
Highly recommend!
What a perfect place! Clean, easy to access, and extremely family friendly! Everything was very clean, newly redone, and the hosts were just a phone call away when needed!
07/01/2021
5 Star
Outstanding condo in a great location with great owners.
06/01/2021
We will be back!
Most AMAZING place ever! Shawn and Linda are wonderful hosts. We can't say enough great things about the condo, the location and them! If you're coming to Okaloosa Island, STAY HERE!! One of our best family vacations ever!!
06/01/2021
Great condo


It had most of what we needed and just a short walk to the beach.
09/01/2022
Destin was good.

I had high expectations. Linda and Shawn were responsive after I made them aware of the fact that there was trash under the bunk beds, the carpets were not shaken off and there being sand underneath, there being sand in the bedroom sheets as well as hair in the bunk beds. Hopefully they'll get that taken care of for the next guests. The location for the condo is great. Next to restaurants. Next to the beach. 8 min from Destin without the traffic. Fort Walton is definitely more family friendly and quiet. We enjoyed that. I would recommend curtains in the room closest to the door, as well as new towels (they're a bit small and smell after the first use). Other than that, it would have been nice to be checked on… or perhaps I'm comparing to other stays, but thanks for the experience.
08/01/2022
This condo is absolutely perfect


It is close to everything and has everything you need for your stay. We have stayed here twice and will be booking again.
08/01/2022
We loved the condo


The check in was easy with access to a parking garage. The condo is new, modern, and decorated in a beach theme with fun decor. The condo is clean and filled with all the amenities for a week long stay. The kids especially loved the garden tub after a long day at the beach. The balcony over looked the pool and gave a great view of the fireworks at night. We also enjoyed the short walk to the beach and having chair-side service. The condo is close to restaurants, bars, boat docks, an arcade & mini golf course. It is in a great location to do other fun things in Destin. You wont regret this rental!! We will be back!!
07/01/2022
Easy to walk every morning to beach.

The condo is very spacious and had everything you need. Right on the water.
07/01/2022
The location and views are outstanding.

Shawn is an excellent host and their home is beautiful with everything you may need (beach chairs, boogey boards, laundry soap, etc.).
06/01/2022
Absolutely the best vacation my family and I have ever been on


Amazing location and very clean
06/01/2022
The room was great and clean and all new!


I loved having the 2nd floor and close to the beach
06/01/2022
We are a family of 7 and we fit just right in this space!


We used the gym every morning, we enjoyed second floor view of the ocean, yet quick access to the pool and beach. Unfortunately the weather was unusually unpleasant for the majority of our stay, however there was plenty of space to sprawl out in the condo and wait out the rain. The resort property was very well maintained and Shawn was so quick to respond to any questions! As hosts ourselves, we would most defiantly recommend Shawn's space to friends and family! Thank ya'll for a great stay!
05/01/2022
Shawn's place was everything we needed for our weekend getaway!


It was fully furnished and very clean. He was easy to get in touch with as well. We hope to return soon!
05/01/2022
Bedroom Setup
1 Bunk Bed
1 Queen Bed
1 King Bed
1 Sofa Bed
Dining Room
Dining Table
Eat in Counter
Bathroom
Bathtub
Linens & Towels
Private Bathroom
Shower/Tub Combo
Walk in Shower
Whirlpool/Jacuzzi Bathtub
Hairdryer
Bedroom Extras
Private Bathroom
Walk-in Closet
Alarm Clock
Balcony/Patio off Master
Cooling Comfort
Ceiling Fans
Central Air Conditioning
Entertainment
Big Screen TV
Cable TV
DVD Player
Fishing
Swimming
Television
Smart T.V.
General
Linens Included
No Pets
No Smoking
Fitness Center
Condo
Pack and Play
Elevator/Lift
Online Booking
Managed By Owner
Home Office
High Speed Internet Access
Wireless Internet Access
Kitchen
Washer/Dryer
Blender
Can Opener
Coffee Maker
Dishes
Dishwasher
Disposal
Fully Equipped Kitchen
Ice Maker
Ironing Board
Microwave
Mixer
Oven
Pots and Pans
Refrigerator
Stove
Toaster
Utensils
Water Filter
Crock Pot
Keurig
Outside Living
BBQ Grill
Community Pool
Deck
Gulf/Ocean View
Balcony
Beach Chairs Provided
View (Water)
Waterfront
Hot Tub/Heated Spa