Destin West Heron 408/Gorgeous Bay View
Destin West Heron 408/Spectacular View
Destin West - Fort Walton Beach Condo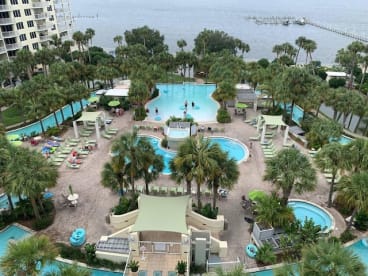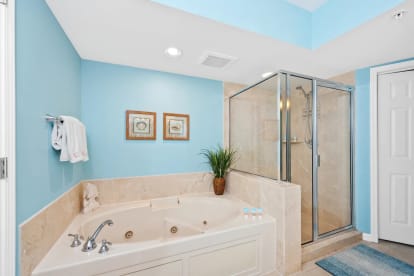 ---

My ECBYO listing
Description
What drew us to Heron 408 and the bayside was the amazing view of the bay and pools, and the spaciousness of the 3 bedroom, 2 bath unit.  The view is simply breathtaking.  Destin West is a premier Fort Watlon Beach resort with buildings on the gulf and bay sides.  All guests have access to the beach, large pool, hot tub and well equipped fitness center on the beach side  (by way of an elevated walkway) and the lazy river, pool, hot tubs, outdoor grilling area and dock for fishing.  We simply love the bay side! 
| From/To | Nightly | Weekend | Weekly | Monthly | Min Nights |
| --- | --- | --- | --- | --- | --- |
Review


Review for Heron 408 - Short review: Book it, and don't look back!
Long review:
Quick 5 day trip down to the beach (from Collierville TN) with my wife, Daughter-18YO (plus her friend from Bama - Roll Tide), Son-17YO (plus his girlfriend- separate rooms, I'm old fashioned like that).
These are the things we were looking for:
1. Near Destin beaches with nice pool - Check
2. Minimal Spring Break traffic - Check
3. Close to great restaurants - Check
4. Well equipped rental with a view and nice patio - Check
5. Responsive owners that are great communicators - Check
Day 1- Showed up and pulled right into parking spots right beside the elevator to the unit. We were very pleasantly surprised by how large and clean the condo presented. The balcony is HUGE with a great view of the lazy river, heated pool, and hot tubs. Electronics are all top-notch - Bose BT speaker, huge new flat-screen TV with cable and all the smart apps, stainless everything. I had to go back down to the car to put back the extra things we brought because they were already there (extra garbage bags, bluetooth speaker, beach chairs, blender, beach cart, beach towels, coffee maker and coffee, cooler, etc....all already taken care of). Texted with Shawn and Linda - They asked if we needed anything and if anything could be better. Well, to be totally transparent, "maybe a new mattress on the master bed would be nice" (the old one wasn't bad at all, actually quite comfy)- Ding-Dong - that's the new mattress being delivered (yeah, that responsive).
Day 2-5: Pictures (in the comments) say the rest.
Awesome place - Will return.
Thanks Shawn and Linda!
Pro-Tip: Rick's next door will officially serve you (many) dozens of delicious oysters! We ate way too many of those delicious gems.
03/15/2021
Review


Had the best time with family. The condo had EVERYTHING we needed and more. With toddlers we appreciated the beach toys, beach chairs, tons of towels, new boars games. There was a pack n play, rounded coffee table (great for our new walker), plates and utensils for the kids along with wine opener and glassware for the adults. The condo was immaculate and ample space for the two couples and children. We definitely will be coming down again! Shawn answered all of our questions instantly and communicated everything so our trip was perfect!
Thank you!
03/24/2021
Thanks Shawn!
Shawn was an excellent host! Great communication! Description of condo 100% accurate and upon check in we found there was so much more in store! All we needed to pack were our clothes! Perfect location, close to all shopping needs and beach! The heated pool and lazy river were beautiful and on-site staff made sure to keep place immaculate! Best place we have booked and will for sure book in the future!
11/01/2021
Thank you Salty Vibes!
Amazing property and extremely well cared for condo. Very impressed with Shawn our host. Communication is excellent, every necessary detail is provided - checking in and out was easy. Destin West Heron 408 is huge, clean and equipped with everything you can possibly want from comfy beds to kitchen tools to beach gear and more. Ideally located between the Bay and the Gulf in a quiet peaceful area, you get the best of both. Beach access is quick and easy, plus if you like to fish or observe sea life - the bay just beyond the lazy river pool area is teaming fish and dolphins. This was our first visit to the Destin area and I hope it wont be our last.
10/01/2021
I would stay here again!
My kids loved the lazy river/pool. The walk to the beach takes maybe 10 mins. I liked that it was a overhead crosswalk to get to beach and didn't have to worry about crossing a busy road. The condo was clean and nicely decorated. Had most of everything you need; I would recommend bringing your own bath soap and trash bags. I would also recommend taking your kids to feed the gators and eat some seafood at Fudpuckers. The Southern Star dolphin cruise was also fun.

10/01/2021
We will definitely stay here again!
Our family of 5 stayed at Destin West Condos in Fort Walton Beach in Heron 408 comfortably in this 3 bed/2 bath condo with an absolutely beautiful view from the balcony overlooking the bay/pool and lazy river area. Everything we needed in the kitchen was there to cook meals. There was an abundance of beach toys/ floats/ beach chairs and 2 beach carts. Easy walk to the beach, boat and jet ski rentals, and restaurants! Beds were comfy, washer and dryer came in handy many times, condo was very roomy! I can't say enough good things about this condo and the very attentive owners who have great communication and very responsive, and they thought of everything!
10/01/2021
5 Star
Kids or no kids this place is amazing! will definitely be coming back.
09/01/2021
we will be back!
This place is AMAZING.... did a girls weekend and it was perfect .... restaurant's and bars next door and across the street ... the beach is amazing ... the choices of pools but the lazy River was the BEST! Definitely recommend staying here and Shawn is so responsive...
09/01/2021
Amazing
It was incredibly clean, and spacious.
There were chairs, and floats to use at the beach and we loved our stay there. We will definitely be back next year!
09/01/2021
Perfect!
Our family had the best time at this condo. We were in town for a funeral but we extended our stay to enjoy the Florida beaches. The condo was very clean and well stocked, and we slept comfortably the entire time we were there. I think the pictures are a little deceiving because when we walked in, it felt bigger than it looks in photos! The pools were perfect for our kids and my husband and I found time to get away and enjoy the lazy river by ourselves. We ate every meal in the balcony and really enjoyed the big table and nice weather out there. Everything about our stay was absolutely perfect and we'll definitely be back!
08/01/2021
Best Trip
Great place. Jetski and boat rentals right next to it. The walk to the beach is less than 10 minutes. Good view from the balcony. Very clean and accommodating.
05/01/2021
Best Trip
Fantastic place! We loved staying at this location, great amenities, very clean! Will definitely stay here again!
05/01/2021
We are definitely going to book again next year for or anniversary.

Absolutely wonderful room. Beautifully furnished with lots of amenities. Access to lots of wonderful restaurants and minutes walk to the beach and bay. Owners are friendly and responsive.
10/01/2022
Great place to stay. We will definitely be back
09/01/2022
Fantastic location. Very attentive host and easy to reach.
08/01/2022
We definitely want to come back.

We had such an amazing time staying here! The condo was fully furnished with tons of necessities like toilet paper, paper towels, trash bags, and even laundry detergent! The lazy river was so relaxing, and the walk to the beach was super easy with an accessible bridge. They had beach toys, beach chairs, beach towels, a beach cart, and even floaties for the little ones available for our use. The owners were super helpful in recommending places to eat.
08/01/2022
We had a great time! Fast responses!
08/01/2022
Will definitely be booking here again!!

Amazing condo to stay at! All you literally need to pack is your clothes. Everything else is provided there, towels, plenty of beach toys and even fishings rods. The beach is a few minutes away but very easy to access. My kids loved the pool and lazy river.
08/01/2022
It was close to the beach but we also had quick easy access to Destin.

Loved our stay at Ft. Walton beach! The pool and lazy river was a great way to spend the evenings. The condo was clean and comfortable.
08/01/2022
Tell your friends... but only your favorite ones!
Just book it. It has everything you need, ocean, bay, lazy river, beach gear, towels, big pools, little pools, seating for everyone (inside and out). Comfy beds and loaded kitchen. Walking distance to many restaurants and sights. Private fishing pier. We have stayed in Destin for many years THIS particular location cant be beat.
07/01/2022
We had a great time!


The condo was stocked with lots of extras! It is quite a walk to get to beach. The bay views are amazing!!
07/01/2022
Great place to stay! Clean, has everything you could need, and very responsive.
07/01/2022
Bedroom Setup
1 Bunk Bed
1 Queen Bed
1 King Bed
Dining Room
Dining Table
Eat in Counter
Bathroom
Bathtub
Linens & Towels
Private Bathroom
Grab Bars
Shower/Tub Combo
Walk in Shower
Whirlpool/Jacuzzi Bathtub
Hairdryer
Bedroom Extras
Private Bathroom
Walk-in Closet
Alarm Clock
Balcony/Patio off Master
Cooling Comfort
Ceiling Fans
Central Air Conditioning
Disability Access Features
Single Level - No Stairs
Walk-in Shower
Entertainment
Big Screen TV
Cable TV
DVD Player
Fishing
Swimming
Television
Smart T.V.
General
Linens Included
No Pets
No Smoking
Vacuum
Fitness Center
Condo
Pack and Play
Online Booking
Managed By Owner
Home Office
High Speed Internet Access
Wireless Internet Access
Kitchen
Washer/Dryer
Blender
Can Opener
Coffee Maker
Dishes
Dishwasher
Disposal
Fully Equipped Kitchen
Ice Maker
Ironing Board
Microwave
Mixer
Oven
Pots and Pans
Refrigerator
Stove
Toaster
Utensils
Crock Pot
Keurig
Outside Living
Community Pool
Outside Shower
Balcony
Beach Chairs Provided
View (Water)
Hot Tub/Heated Spa
Parking
Covered
Parking for 2 cars