Osprey Penthouse 02
Osprey Penthouse 02
Destin West - Fort Walton Beach Condo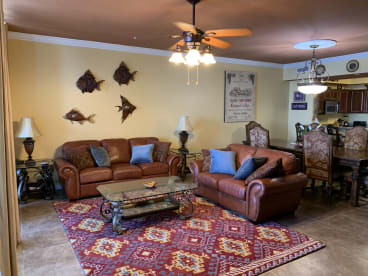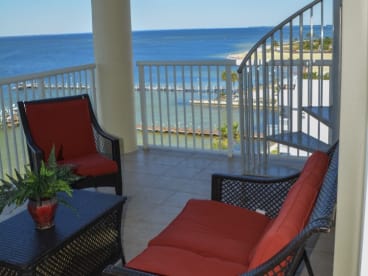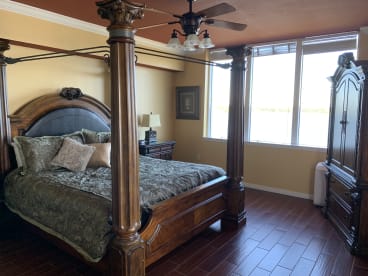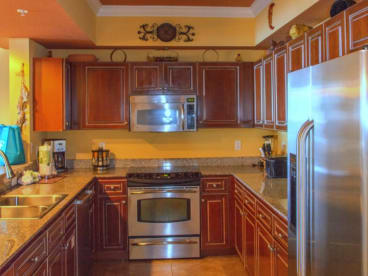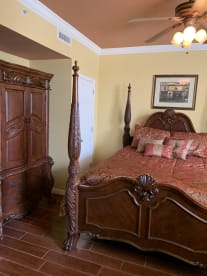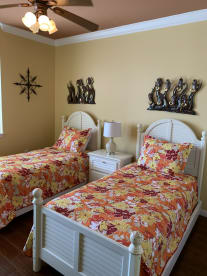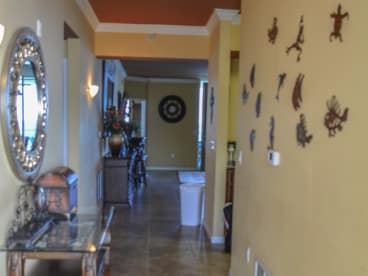 ---

My ECBYO listing
Description
Enjoy this professionally decorated 3br/2ba Penthouse unit located on the 7th floor of the Osprey building at the award winning Destin West Beach and Bay Resort!  The decor of the unit was carefully selected... it is both tasteful and very comfortable... NO CARPET.  Why not enjoy your vacation in luxury!  We're confident you will agree that this unit is incredible in every way!

It has a spacious balcony off the master bedroom and living room with a spiral staircase leading to a 1200 square foot rooftop private deck with private 4 person hot tub, hammock, lounge and dining chairs and gorgeous unobstructed views of the bay.  Enjoy incredible and memorable sunsets while relaxing in the hot tub.

The master bedroom features a canopy style king size bed with dual side tables and lamps, with a 27" Toshiba TV/DVD combo. The master bath features a full-size stand up shower (glass enclosed), adjacent to a full size jacuzzi tub. These features along with a huge double vanity will make getting ready that much easier. The guest bedroom features a queen size bed with side tables and lamps and 24" TV/DVD combo. The third bedroom includes a set of twin beds and is also privately located near the guest bedroom. The living room offers a queen size sleeper sofa, 42" Sanyo Flat Panel (wall mounted) TV with DVD/VCR. The living room also features a free standing bar. The fully equipped kitchen has granite countertops and stainless steel appliances which include a side by side refrigerator with ice/water, smooth top range, quiet dishwasher and an over-the range microwave. The dining room features a dark wood table that seats 6 with 4 bar stools at the kitchen. There is a separate laundry room with washer and dryer. 

***This unit offers complimentary beach service valid from 03/01/17-10/31/17 as well as year round free WiFi connectivity for all your laptops, ipads, etc.***

You will quickly see why this resort has rapidly become one of the most desired family destinations on The Emerald Coast.  Immerse yourself in the premium-quality amenities that surround the luxury resort – from our signature 700-foot-long Lazy River to our many swimming pools and Spas. Our-state-of-the-art fitness center is one of the finest in the area. There is also an elevated walkway that connects the Bayside of Destin West Beach & Bay Resort to the Gulf side – for easy access to either complex.  Discover all the unique amenities and recreational features our popular West Destin West Florida resort has to offer.

Please note, while some of our reviews reference a grill, we've removed the grill for liability issues.  However, the resort provides multiple charcoal grills scattered around the grounds.  
From/To
Nightly
Weekend
Weekly
Monthly
Min Nights
01/07/2023
03/04/2023
$190
$190
$1,140
--
5
03/04/2023
03/25/2023
--
--
$1,950
--
7
03/25/2023
04/15/2023
--
--
$2,020
--
7
04/15/2023
04/22/2023
--
--
$2,275
--
7
04/22/2023
05/13/2023
--
--
$2,150
--
7
05/13/2023
05/20/2023
--
--
$2,080
--
7
05/20/2023
08/12/2023
--
--
$3,750
--
7
08/12/2023
09/09/2023
--
--
$2,780
--
09/09/2023
10/21/2023
--
--
$1,900
--
7
10/21/2023
03/02/2024
--
--
$1,350
--
7
Cleaning/Registration Fee:
$195.00
Private Hot Tub Cleaning Fee:
$40
Wow!

Great location and a fantastic condo. Not only is every room beautifully furnished and decorated but the view is stunning and the deck and rooms surprisingly quiet! Being on the bay side makes for a perfect uninterrupted view and the beach is just an easy walk across the sky bridge. This is a perfect location for families or groups with all the amenities and qualities you'd expect and hope for.
10/25/2016
Best Destin West Condo Overall

We have stayed at Destin West for the past 5 years and this condo is by far the best one we have stayed at. The owners are so helpful and really care about your experience in their condo and your vacation. It is beautiful and the rooftop view made my vacation. We want to stay at this condo Everytime we come now. I highly recommend staying here and promise you won't want to stay anywhere else!
09/14/2016
Great way to celebrate Thanksgiving with family!
It's always a challenge to decide which home you will visit over the holiday with kids and teenagers, so we decided to roll it into a beach vacation on Okaloosa Island, Florida. Everyone had a great time - weather was mixed but we had access to heated pools and hot tubs, a great gym, restaurants and shopping nearby, with things to do during the day and evening to keep everyone busy. Second part of the week brought warmer days and a chance for some sunbathing and sand castles. White sands, rolling surfs and seabreeze..... So Thankful for our choice to rent a Penthouse at Destin West. The owners present their condo as a home from home experience with everything we needed - we even managed to cook the family turkey on Thanksgiving day without a hitch. Thank you!! Loved our trip and plan to return again soon!


11/25/2016
Our getaway...


My wife and I like the off season. We also like and appreciate some of the finer things in life. This condo certainly fits the bill. The pictures posted on the website don't really tell the whole story. The location is outstanding, offering views of the bay and Gulf, sunrise and sunset. We "struggle" with decisions like should we eat out on the balcony or roof deck; or should we have wine and cheese or bloody marys while watching the sunset. The pictures also don't show how quiet and surprisingly private the place is; which to us, is its best feature


01/02/2017
Wish we could stay forever


What a relaxing getaway we just experienced in this fabulous condo! We have stayed at Destin West Beach & Bay in this Osprey penthouse several times before with kids & family, but this was the first time alone! It is large enough for our big family and friends to be comfortable, as well as a great romantic getaway. This resort is certainly one of the best in Ft. Walton Beach. The condo is beautifully appointed and meticulously maintained. We particularly enjoyed staying on the peaceful bay side, and are always enamored with the incredible array of huge ospreys and herons flying right next to the deck, as well as the amazing fish we can watch in the crystal clear water. You can fish right off the pier next to the building, and rent boats, pontoons and jet skis next door. Of course, we can hardly get out kids out of the lazy river when they are here, and we have just a short walk to the beach to relax and read in the chairs and umbrella graciously provided by the owner. At night we went to the rooftop deck for an incredible 360 degree view of the bay and the beach, not to mention all the stars. But my all time favorite was probably watching the sunsets from up there. If you wander into Destin, don't miss the Marina Cafe for unparalleled steaks & seafood, and top it off with the best frozen custard on the planet at Shakes. If only the gracious owners would let us stay forever!


11/05/2016
Awesome Condo in Fort Walton!

The condo was very comfortable and spacious. It had every amenity for a short or extended stay. The view overlooking the bay was beautiful and very relaxing. Everyone enjoyed the pools and lazy river. The entire family had a great time and can't wait to go back!

11/06/2016
Great anniversary trip!


My husband and I had such a wonderful time celebrating our anniversary! The property is nice, the pools were great, loved the lazy river! The beach was beautiful, the included beach service was so wonderful! The condo was absolutely gorgeous and beautifully decorated. We loved the space, the patios were our favorite place to eat all of our meals. Definitely one of our favorite vacations and we can't wait to stay in this condo next time! Highly recommend it!!


10/22/2015
The Best View in Destin!


This corner penthouse has the best view overlooking the Bay. You can sit out on the patio or enjoy the rooftop deck and hot tub, all while grilling burgers with the family. This was an awesome set up both inside and outside and has lenty of room for everyone. The pool was great for all ages, toddlers to teenagers, and includes a lazy river. And don't forget the beautiful white sand beach and blue water of the gulf. The whole family had a great time!


08/04/2015
Perfection With a View


Great location, safe parking, easy access to beaches and amenities, and a fantastic view not to mention the exceptionally well appointed living, bedroom, dining, and bath spaces. The rooftop hot tub with a view topping any of the surrounding structures is absolutely fabulous. This place is a must and the price is a steal.


03/30/2015
Paradise at Destin West


I spent the month of January at the Destin West in the Osprey Penthouse #2. WOW! This spacious penthouse condo surpassed all expectations. It was very tastefully decorated and very comfortable throughout. The kitchen was fully equipped with everything I needed to cook and serve comfortably. I had my own private rooftop space with a private hammock, gas grill and hot tub. Truly an amazing pad. Whether you're into star gazing from the spa on the roof or watching the most stunning sunrises you've ever seen from the master bedroom, you won't find a better place to do it than right here in this condo. I booked it directly through the owners who were very easy to work with and extremely helpful. It felt like I was dealing with family. Front office staff was great too. I give it 5 stars and two thumbs up!! You've got to check this place out.


02/09/2015
Awesome getaway!


Great condo with the fantastic roof top view. Sooo nice, roomy and well furnished. I loved the nite view from bed in the master suite. My favorite spot to sit up and read til drowsy. WONDERFUL pillows. The hot tub was terrific and we watched dolphins playing in the bay right below the condo. Skywalk makes it simple to access the beach for a daily walk. Great place at a great price! Go there!


03/15/2014
As close to perfect as it gets


The location was amazing, the view was incredible, and the condo/amenities were gorgeous. We will be booking again!! Thank you for such a great vacation.


08/15/2013
Wonderful Time


We are Locals and, decided to go to Destin West for a Mini Vacation close to home. We all had such a wonderful time. Stephanie is such a sweet Lady and very accommodating The Condo was Awesome and very very clean. The view from the Balcony of the bay was so Beautiful and Serene. We did feel like we were in another place and have already booked it again for the same time this year. The roof top deck has a great view with a 4 person hot tub. You can not go wrong with this condo.


01/10/2017
BOOKING FOR NEXT YEAR


WE HAVE STAYED IN AND AROUND DESTIN SEVERAL TIMES OVER THE PAST YEARS. THIS WAS OUR FIRST TIME IN THE FALL AND VACATIONING WITH A GROUP OF FRIENDS. WE ALL LOVED THE FABULOUS CONDO, IT FELT LIKE WE WERE NOT IN FLORIDA BUT IN ANOTHER COUNTRY. VERY CLASSY DECORATION AND WONDERFUL LAYOUT FOR THE CONDO. THE BALCONY WAS MY FAVORITE PLACE, VERY PEACEFUL AND RELAXING. WE ACTUALLY CALLED AND STAYED AN EXTRA DAY. PLANNING ON STAYING AGAIN NEXT YEAR. WOULD HIGHLY RECOMMEND FOR A FAMILY TO STAY.


10/16/2012
What a wonderful Condo


When we walked in the front door, headed straight for the balcony and looked out to see dolphins playing in the bay, we knew it would be a wonderful week. Then we explored the condo. What a comfortable, cozy, well appointed place it was. Very spacious and the beds were very comfortable. Plenty of room for guests. We enjoyed waking up to breakfast on the balcony, the short walk to the beach side to play in the ocean and afternoon fun in the lazy river. The icing on the cake was the end of evening relaxation in the roof top hot tub! The only drawback was that the accommodations were so inviting, you may find a certain lack of motivation to go out and explore the town! Wonderful, wonderful, wonderful, can't wait until next time. The Fords


08/27/2012
Awesome Condo with Spectacular views!


What an awesome vacation!! This was our first time in Destin and our first time staying at Destin West. We were not disappointed- This condo rocks! The pictures do not do it justice- We felt like home our entire stay here. The beds were so comfortable!!! I usually don't sleep well on vacation due to uncomfortable beds, but not here! Condo is very spacious and impeccably clean! And I'm VERY picky (my husband calls me princess). We cooked breakfast every morning in the huge kitchen and had our coffee on the balcony every morning! The views of the bay are breathtaking! It's so clear that we could see tons of fish and rays from our 6th floor balcony! The pools and lazy river on the bayside are awesome, we never even got in the pool on the gulfside. It is a little walk to the beach but when we come back we will definitely book on the bayside, super quiet and relaxing. My 6 year old son and I both cried when we had to leave, we loved it here. Destin West also does a great job with keeping up the grounds, very clean and everyone was super nice. We love Osprey PH #2!!!! Thanks again- The Schupbachs


07/01/2012
Wonderful!!


My husband and I, along with 2 of our best friends, stayed during spring break this year. The owners are more than helpful. The staff is nice. The condo was very clean, and had plenty of room. The patio was great. The views were amazing!! We are young but we did not want the crowds and hustle of the partying spring breakers so this was great. If we wanted to step out for a night on the town, we were so close to everything. If we wanted to stay in and have a relaxing night, we were in the best spot. It was quiet and layed back. We will be coming back!!


05/02/2017
"TOTALLY AWESOME"


I'm pretty sure this review will probably fall short of the total experience we had while staying in this beautiful condo. First and foremost a big thank you to the owners for not only sharing this place with us but for all the help in getting it booked. We must admit that we were a little skeptical at first (it just all sounded to good to be true) but after talking to the owners a few times we were confident we found a nice place. We have no problem going on record saying this place is totally awesome. The listing photos are accurate, but they do not do the condo justice. The minute you step in the door and see it with your own eyes you will understand what we mean. Its is very clean, well-maintained, and simply beautiful. The furniture is top of the line, the kitchen has it all, the beds are all very comfortable, the bathrooms are spotless.. You really do not need to bring a thing, the place has it all .... OK maybe one thing, your camera, because when you step out on the balcony and head up the spiral staircase to the rooftop hot tub your going to want to take a few pictures. (Words just cant explain it) We would highly recommend this condo to anyone looking for a exceptional place to stay..... you will not be disappointed.


03/20/2012
Better than a massage


We recnetly met several family members at this unit and we had a blast. The furnishings and decor are immaculate, and the kitchen is so nice. Since the grocery was so close, we rarly ate out. We had enough room in the kitchen for four adults to make home-made cavatelli pasta. This is the place to have a big family get-together...no matter what time of year it is. We look forward to staying again.


01/24/2012
Happy New Year


My family and I stayed in this lovely condo for the days around New Years 2012. The location was fantastic. We went to the beach every day. Even though we were there during the Winter season, the weather was so mild that we were able to enjoy the beach, heated pool, and rooftop hot tub. The condo itself was spacious, yet cozy and comfortable. The kitchen was well equipped and large enough for several adults to work in. We cooked most days that we were there (the grocery store is less than a mile away), but we did eat across the street at the dock where there were several restaurants to choose from. The master bathroom was very spacious, and the entire condo was impeccably clean and beautifully decorated. There was plenty of outdoor seating on both the bay facing patio and the rooftop patio. The view of the bay was breathtaking. I watched the birds for hours. We even enjoyed watching the New Years fireworks in Destin from the rooftop patio. My family had a wonderful time with a much needed relaxing get away.


02/06/2012
fun time


Beautiful unit will be looking forward on returning.
11/08/2011
Beautiful condo, great location!
My husband and I spent out 10th anniversary here, and it is a fabulous place to stay! While the weather didn't allow us to spend much time out on the decks, we did enjoy going up to the roof to watch the fireworks on New Year's Eve! The views really can't be beat. You can see both the gulf and the bay. You can walk over to the beach if you like, and drive 5-10 minutes into Destin. We had a lovely time, and definitely recommend it!
12/28/2017
Awesome resort
After 20 years of vacationing in Gulf Shores we decided to try Destin. It did not disappoint and Destin West Resort was a good part of the reason. First of all Stephanie was awesome to work with. The condo is in a great location and is very well equipped. If you like coffee in the morning in a rooftop hot tub this might be the place for you, I imagine it would be good with wine at night watching the stars also, There is also a roof top gas grill that comes in handy too.. It is walking distance to many bars and restaurants and also the Gulfarium. The beach is an easy 7 min walk and your beach chairs and umbrella will be waiting for you.The beach is awesome and a short walk to a well equipped fishing pier. The numerous pools and hot tubs are for all ages and there is even a lazy river. You also have access to the Ramada next door with a swim up bar. You really don't have to leave the resort but if you do, downtown Destin is a 5 minute drive. If you want,you can rent a pontoon boat next door and try out Crab Island. I could go on and on but I think you can tell it was a great time. We will definitely stay here again,everything was perfect. Thanks again, Dave
04/25/2018
An absolute delight!!!
My wife and I spent a week at this rooftop/penthouse condo. We couldn't have been more thrilled with the time we spent there. The condo is nicely outfitted whether you prefer to stay in and relax, enjoy the covered patio and bay views, sit in the hammock/hot tub on the roof, grill in the fresh ocean breeze, hit the pool and lazy river, head down to the docks and hop on a boat, lounge on the beach all day, or hit up some local food and seafood joints. While we were there, we spent most of our mornings sitting on the patio with a cup of coffee, watching the fishermen and other boats head in and out of the bay. We usually ate lunch at the condo which is outfitted well for the grill master/baker/cooker/etc. We had everything we needed and it was all relatively easy to find in the cabinetry. In the afternoons, we'd stroll over to the beach and sit in some of the lawn chair/umbrella set ups, make sure you wear the wrist bands provided at the condo and know the condo number so the beach staff can get you set up with the proper accommodations for free! The evenings were spent going to get some food at the local restaurants and walking any shopping areas that captured our interest. After that, back to the condo to utilize that patio and roof top hot tub some more! The sleeping arrangements, bathrooms, amenities, etc. were all in superb condition for our stay and extremely comfortable. All in all, we couldn't have asked for a more relaxing and well enjoyed trip to the Destin/Fort Walton beach area. As first-time vacationers to the area, we definitely have plans to be back again!
05/01/2019
Highly recommend
The owners were very easy to work with and the condo was great. We would definitely stay in this condo again.
06/15/2019
Absolutely wonderful!!
My family and I had the most awesome week. This place is absolutely fantastic. The view from the roof is spectacular. We got to see the fireworks on the Okaloosa Island pier from the rooftop as well. To wake up in the morning to see the sunrise and have coffee or in the evening with a cocktail to see the sunset is just unbelievable. This is close to everything and only a few minutes from Destin. I highly recommend to anyone looking for a great place to stay. We will be back for sure!!
08/03/2019
Wonderful getaway
My family and I spent a fabulous week at this condo just last week. Even though it was uncharacteristically chilly at the beach, we were able to enjoy superb views of the waterway, where a flying boat — I'm not kidding — would take off and land, majestic osprey would fly by, and beautiful vistas were always before us. And we were still able to take long walks on the beach and even get a tan! The accommodations were excellent, and the access to both the charming downtown of Ft. Walton Beach and the diverse offerings of Destin were just minutes away. We love this place, and can't wait to get back again next year.
12/15/2019
Amazing room, view, and owners!
My family stayed there in July and it was the BEST experience we had in the area. We have stayed in various rooms at Destin West, but by far this was the best suite. We are a family of 5 and 2 adults and 3 children my kids said they can't wait to go again next year! The owners were amazing to work with and accommodated us however they could. The suite was everything and more you could ask for! Perfect for kids of all ages, teens and tweens! Highly Recommend.
07/20/2019
A Family Favorite
We stayed a week during the summer (2020) and our kids still talk about how it's their favorite condo that we've ever stayed in. We loved that the furniture was quality and not the inexpensive stuff you can sometimes find in condo rentals. It was super clean and very well maintained. The master bedroom and large bath was fabulous. All the beds were extremely comfortable- even the sofa bed had a really nice mattress (great for larger groups)! We loved watching the boats come in and out of the harbor. There's a nice pier that our kids were able to fish from. The rooftop deck was the extra bonus every family would love. We enjoyed grilling and using the hot tub while watching the sunset from the top. And of course everyone enjoyed the lazy river. Other than our one night we are out and our pontoon boat we rented (from right next door!) we never had a reason to look for entertainment elsewhere. This penthouse will not disappoint!
08/02/2020
Amazing
This place does not disappoint! The views from the patio and rooftop are amazing! Would definitely rent from the owners again.
03/08/2021
Great condo!
Condo was spacious, clean, properly furnished had a rooftop sun deck with jacuzzi! The condo complex has great pools and lazy River. Access across street to the hotel that is beachside where you can enjoy the swim up pool bar or the beach front bar which had live music while we were there. No complaints, not a single on! Highly recommend!
05/12/2021
Love this condo !!
This condo is amazingly spacious and really well equipped. The location is wonderful to enjoy the intercostal and the ocean. The heated pools are great to have to enjoy year round. The roof top hot tub is such a luxury to make your stay extra special. Can't wait to come back .. the owners are so wonderful to work with !!!
12/21/2021
Best vacation ever!
We had the absolute best time at this condo. It was plenty of room and the most amazing view!! The kids even loved it being on the bayside we was able to catch hermit crabs and watch dolphins from the balcony.
07/30/2022
Bedroom Setup
1 Queen Bed
1 King Bed
2 Twin Beds
1 Sofa Bed
Dining Room
Dining Table
Eat in Counter
Formal Dining Room
Bedroom Extras
Private Bathroom
Walk-in Closet
Alarm Clock
Cooling Comfort
Ceiling Fans
Central Air Conditioning
Disability Access Features
Television Amplifier
Walk-in Shower
Entertainment
Big Screen TV
Cable TV
Television
TV/DVD
DVD/VCR
General
Linens Included
No Pets
No Smoking
Vacuum
Fitness Center
Condo
Elevator/Lift
Home Office
High Speed Internet Access
Wireless Internet Access
Kitchen
Washer/Dryer
Blender
Breakfast Bar
Can Opener
Coffee Maker
Dishes
Dishwasher
Disposal
Fully Equipped Kitchen
Garbage Compactor
Gourmet Kitchen
Ice Maker
Ironing Board
Microwave
Mixer
Oven
Pots and Pans
Refrigerator
Stove
Toaster
Utensils
Crock Pot
Outside Living
BBQ Grill
Community Pool
Deck
Porch Furniture
Private Parking
Gulf/Ocean View
Balcony
Beach Service Provided
View (Water)
Waterfront
Hot Tub/Heated Spa
Bathroom
Linens & Towels
Private Bathroom
Walk in Shower
Whirlpool/Jacuzzi Bathtub